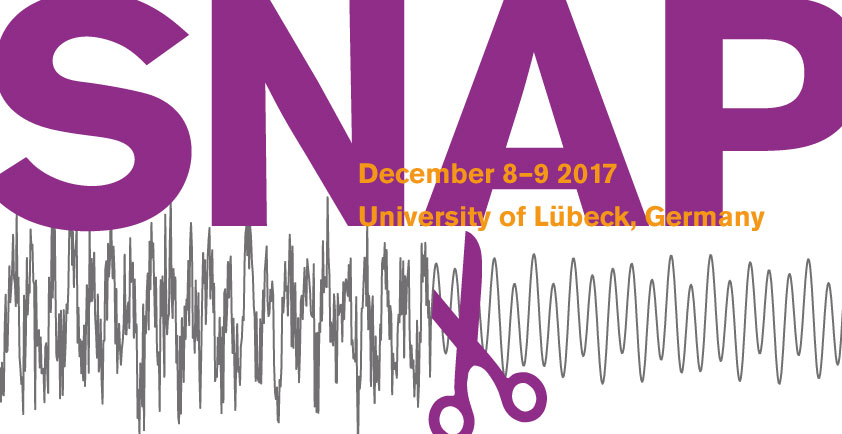 After great suc­cess in the past, we are proud to announce a new SNAP Work­shop in Decem­ber 8|9 2017. This time it will take place at the Uni­ver­si­ty of Lübeck!
The work­shop will bring togeth­er, for two days of sci­ence, about 12 inter­na­tion­al speak­ers on neu­ro­science, psy­chophysics and engi­neer­ing per­spec­tives on pro­cess­ing degrad­ed sound and speech.
We hope­ful­ly will (re-)cre­ate an intense atmos­phere of ideas and dis­cus­sions, flanked by some posters from grad­u­ate stu­dents and post­docs who will be able to reg­is­ter for the work­shop as well.
We aim for not more than 40 par­tic­i­pants in total. These slots will be giv­en by a first come, first serve basis. Reg­is­tra­tion closed!
9 Speak­ers already con­firmed to give a talk dur­ing SNAP:
Sami­ra Ander­son, U Mary­land Col­lege Park, USA
Jen­nifer Biz­ley, UCL, UK
Maria Chait, UCL, UK
Tom Fran­cart, U Leu­ven, BE
Christoph Kayser, U Glas­gow, UK
Edmund Lalor, U Rochester, USA
Josh McDer­mott, MIT, USA
Nima Mes­garani, U Colum­bia, USA
Sarah Ver­hulst, U Ghent, BE
We will hold the work­shop in the heart of Lübeck's medieval city cen­tre (an island, actu­al­ly), which is UNESCO world cul­tur­al heritage.
In Decem­ber, when you will be here, Lübeck also holds a quite pit­toresque Ger­man christ­mas market.
Pro­gram

Reg­is­tra­tion & pay­ment arrangements
Please save your place at the SNAP 2017 work­shop. There is a max­i­mum of about 40 par­tic­i­pants – first come, first serve.
Reg­is­tra­tion closed!
There is a 120€ fee per par­tic­i­pant, no addi­tion­al tax­es. The fee includes par­tic­i­pa­tion in a two-day Work­shop includ­ing a Poster Ses­sion, a lunch buf­fet, snacks, and bev­er­ages dur­ing the whole dura­tion of the Workshop.
Trans­fer the fee under the ref­er­ence "SNAP 2017" + "par­tic­i­pan­t's name" (exam­ple: SNAP 2017 Mueller) to the fol­low­ing account:
Recip­i­ent: FVA S‑H (Finanzver­wal­tungsamt Schleswig-Hol­stein ‑Lan­deskasse-) Bun­des­bank Hamburg
IBAN: DE52 2000 0000 0020 2015 35
BIC: MARKDEF1200
Ref­er­ence: SNAP 2017 (par­tic­i­pan­t's name)
If you do not have access to a Euro­pean bank account for mon­ey trans­fer, please con­tact us at (snap2017@auditorycognition.com).
Poster Ses­sion
In the course of the work­shop we will hold a poster ses­sion (with posters on dis­play for both days). If you would like to par­tic­i­pate, please make sure that you have reg­is­tered for the work­shop and vis­it the poster reg­is­tra­tion after­wards. Sub­mis­sion dead­line for the Posters will be July 31st, accep­tance noti­fi­ca­tions will be sent out in August 2017. There will be about 30 Posters max.
The Loca­tion
The work­shop will take place in the ATLANTIC Hotel in Lübeck. The exact address is:
ATLANTIC Hotel Lübeck
Schmiedestraße 9–15
23552 Lübeck
ATLANTIC Hotel Lübeck is locat­ed right in the his­toric dis­trict of Lübeck.

Hotels
Unfor­tu­nate­ly we can only take care of Hotel reser­va­tions for the invit­ed speak­ers. To make the search a lit­tle eas­i­er for you, we here list a few Hotels in walk­ing dis­tance to our work­shop location:
H4 Hotel Lübeck
Radis­son Blu Sen­a­tor Hotel
ibis Lübeck City Hotel
B&B Hotels Lübeck
Keep in mind that the work­shop will take place dur­ing the hol­i­day sea­son and Lübeck is very pop­u­lar at that time of the year. Rooms will be sought-after, so make your reser­va­tions as soon as possible.