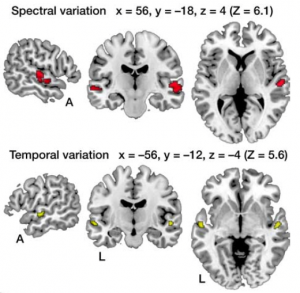 If you hap­pen to be at SfN this week, you might want to check out my short pre­sen­ta­tion on a recent study [1] we did: What do spec­tral (fre­quen­cy-domain) and tem­po­ral (time-domain) fea­tures real­ly con­tribute to speech com­pre­hen­sion process­es in the tem­po­ral lobes?
It is in the Audi­to­ry Cor­tex Ses­sion (710), tak­ing place in Room 145B. My talk is sched­uled for 0945 am.
[1] Obleser, J., Eis­ner, F., Kotz, S.A. (2008) Bilat­er­al speech com­pre­hen­sion reflects dif­fer­en­tial sen­si­tiv­i­ty to spec­tral and tem­po­ral fea­tures.
Jour­nal of Neu­ro­science
, 28(32):8116–8124.
Ref­er­ences
Obleser J, Eis­ner F, Kotz

SA

. Bilat­er­al speech com­pre­hen­sion reflects dif­fer­en­tial sen­si­tiv­i­ty to spec­tral and tem­po­ral fea­tures. J Neu­rosci. 2008 Aug 6;28(32):8116–23.

PMID

: 18685036. [Open with Read]