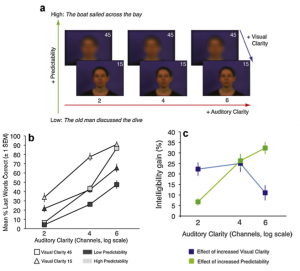 Last years's lab guest and long-time col­lab­o­ra­tor Car­olyn McGet­ti­gan has put out anoth­er one:
Speech com­pre­hen­sion aid­ed by mul­ti­ple modal­i­ties: Behav­iour­al and neur­al interactions
I had the plea­sure to be involved ini­tial­ly, when Car­olyn con­ceived a lot of this, and when things came togeth­er in the end. Car­olyn nice­ly demon­strates how vary­ing audio and visu­al clar­i­ty comes togeth­er with the seman­tic ben­e­fits a lis­ten­er can get from the famous Kalikow SPIN (speech in noise) sen­tences. The data high­light pos­te­ri­or STS and the fusiform gyrus as sites for con­ver­gence of audi­to­ry, visu­al and lin­guis­tic information.
Ref­er­ences
McGet­ti­gan C, Faulkn­er A, Altarel­li I, Obleser J, Baver­stock H, Scott

SK

. Speech com­pre­hen­sion aid­ed by mul­ti­ple modal­i­ties: behav­iour­al and neur­al inter­ac­tions. Neu­ropsy­cholo­gia. 2012 Apr;50(5):762–76.

PMID

: 22266262. [Open with Read]